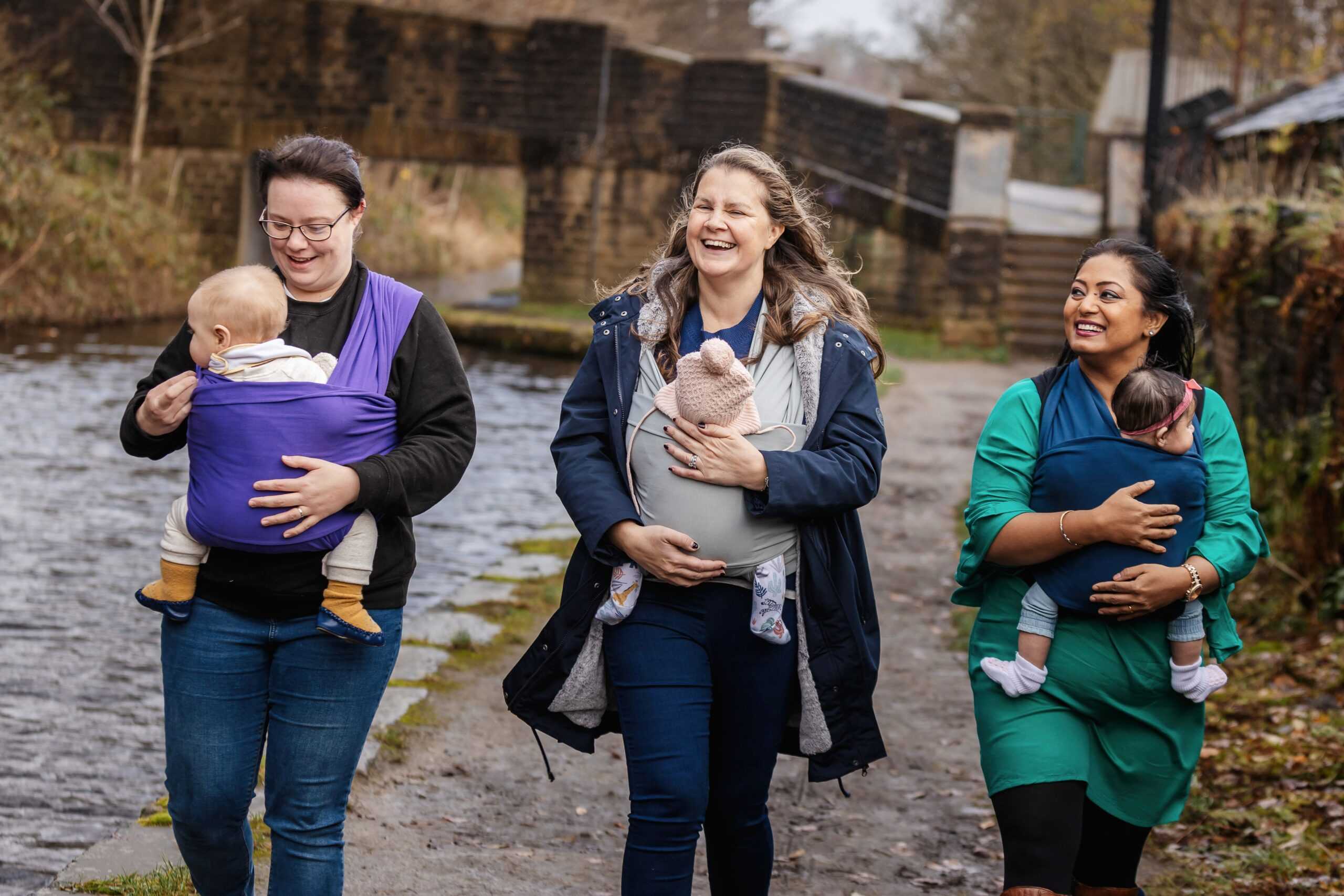 Buy a beautiful, handmade Sa-Be baby sling wrap from Tag Togs and enjoy the many benefits of babywearing with this practical, stretchy ergonomic baby carrier for newborns and toddlers.
Our specially designed baby sling wraps are based on the ancient tradition of using a simple piece of cloth to create a comfortable, ergonomic and natural way to carry your baby as it grows.
Our ergonomic baby carrier for newborns
Suitable as a baby carrier from birth up to around 3 years of age, the Sa-Be is made from 100% super soft jersey cotton (similar to t-shirt fabric) and can be made in a single block colour or your choice of a two colour combination.
Easy to use, our stretch baby wrap comes in one size to fit ALL adults, without any inconvenient or uncomfortable buckles to adjust.
Our stretchy baby sling wraps are easy to use and are sold with a full instruction booklet. Once the wrap is tied to the carer's body, baby can easily be popped in and out of the wrap. It only needs to be tied on once, and also works wonderfully as a breastfeeding cover.
The benefits of our ergonomic sling carrier
This fabulous ergonomic carrier is wrapped using the basic method used for many other baby sling wraps available, but our unique tubular design of the Sa-Be wrap means it has more structure, meaning it's the perfect carrier for newborns, while also being comfy for carrying heavy toddlers too!
Other benefits of using a Sa-Be baby sling wrap include:
Holds newborns in a familiar, comforting foetal position
Healthier for hip and leg position for baby, promotes the 'M' shape where babies knees are higher than the bottom
Helps with the fourth trimester and helps with bonding
Upright carrying promotes healthy digestion
Toddlers enjoy the eye level contact, helping their interaction skills
Weight is evenly spread, making it a more comfortable type of baby carrier for the parent or carer
Frees up both hands, allowing you to carry on your day-to-day tasks and activities while still maintaining closeness with your newborn, baby or toddler
In addition to this fantastic, ergonomic baby sling wrap, we also make and sell other types of baby carrier, such as the practical pouch sling and Mei Tai carrier – please take a look around our website or get in touch if you have any questions.
How to use your Sa-Be sling wrap